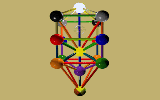 REDISCOVERING JEWISH MYSTICISM AND SPIRITUALITY
EXPLORING THE WORLDS OF JEWISH MYSTICISM
An introduction to the central concepts and experiences of Jewish mysticism, from a contemporary psychology perspective. Through stories, meditation and study of mystical texts, we shall enter into the world of Jewish mystical understanding, and discover practical guidelines for living a spiritual life in this time of profound cultural transition, in the beginning years of the 21st century.
AFTERLIFE JOURNEY OF THE SOUL IN JEWISH MYSTICISM
Does Judaism believe in the afterlife? Unequivocally, the answer is yes! Unfortunately, in the modern period we have lost touch with much of the traditional Jewish wisdom on the afterlife journey of the soul. In this presentation, we shall explore Judaism's teachings on life after death, particularly in mystical Judaism. We shall also endeavor to understand the contemporary relevance of these teachings in dealing with the human encounter with death.
MYTH, MYSTICISM AND ANCIENT BIBLICAL WISDOM:
EXODUS FROM EGYPT AS AN INNER JOURNEY
A psychological understanding of the Exodus story as a living myth which allows each individual to investigate their own personal journey of liberation from bondage and limitation towards freedom and spiritual transformation. (A similar program can be created based upon the Book of Genesis, and also include bibliodrama.)
Possible option for shabbaton is to focus on a particular holy day – for example:
SPIRITUAL GUIDELINES TO THE PASSOVER SEDER
An exploration of the symbols of the Passover Seder from a contemporary-Kabbalistic perspective. Guidelines for creating a spiritually-significant Passover Seder ritual. (Similar programs may be developed for other Jewish holidays, e.g. "Hanukkah – A Candle in the Night", "Tu B'Shevat Seder"; "Getting Ready for the High Holy Days", etc.)
JEWISH MINDFULNESS MEDITATION
Practical approaches to the practice of Jewish mindfulness meditation and its relationship to teachings of Kabbalah and Hasidism.
DISCOVERING JEWISH SPIRITUAL DIRECTION
An exploration of the emerging practice of Jewish spiritual direction, a contemplative process of discerning one's ongoing relationship with a living god.