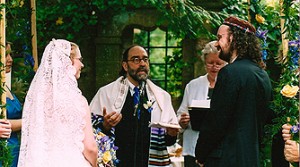 Marriage is one of the most complex institutions in our rapid-paced society. On one hand, fairy tales and Disney movies leave men and women with unrealistic projections of love and marriage, hoping to "live happily ever after", expecting romance and passion to last forever. On the other hand, today it is estimated that 50% of all marriages end in divorce. With ever-changing expections of gender roles, and with the demands of technological society, relationships can be very challenging. Building a marriage that is healthy and supportive for both members of the couple requires thoughtful, intentional preparation.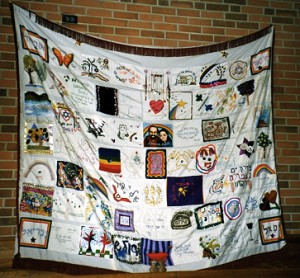 As a facilitator of life cycle rituals, I see my role not just to "do a wedding", but to work closely with couples to prepare for a marriage – that one hopes will last a life time. I bring skills as a marriage counselor and ritual guide to help individuals create a wedding ceremony that reflects their deepest values. Through preparing for the wedding, couples get to know each other more fully, and learn to deal with issues of family, spirituality, social values and more, all of which emerge in planning a wedding. In creating a wedding ceremony, I encourage people to learn the ritual traditons of their faith, and to shape and design a ceremony that honors their family background and personal styles of expression.
I help couples to write a personalized ketuba (wedding contract) and if desired to design and create their own huppah.
When appropriate, I work with couples to create their own "Co-Habitation Covenant" – a document which delineates their deepest values and commitments in relationship.
I am open to performing same sex and inter-faith wedding ceremonies.